In December 2019, the 21st Century IDEA Act was signed into law with the aim of improving the digital experience for government customers. This law strengthens the existing requirements for federal public websites. As a Federal Director in the Department of Defense or the Department of State, this act affects you.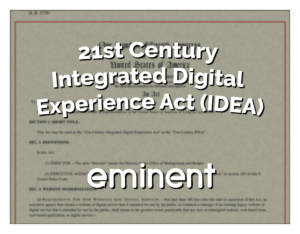 The IDEA Act
The 21st Century IDEA Act aims to improve customer service and engagement across all agencies by reducing overlap and duplication. To achieve this, the act mandates each agency to appoint a Chief Digital Experience Officer (CXO). The CXO will be responsible for managing the digital services offered by the agency.
Chief Digital Experience Officer
The CXO will oversee website development, data analytics, user testing, and customer feedback. The CXO will develop cross-agency standards to ensure consistency in creating and updating digital services. They will oversee all aspects of digital engagement to eliminate duplicated efforts, improve communication between departments, and increase user clarity.
Digital Dashboard
The act mandates agencies to establish a "digital dashboard" to monitor performance metrics of their online services. Directors and stakeholders can access performance data immediately through the digital dashboard. The dashboard also highlights opportunities for improvement in website usability and customer service responsiveness. Agencies must also publicly publish their plans for enhancing digital services, based on performance metrics, on their websites.
It's important to note that the 21st Century IDEA Act only applies to public-facing websites—internal sites used only by those within the agency is exempt from these requirements. However, within departments such as Defense or State to ensure that internal resources are used efficiently and effectively to maximize customer satisfaction at every level.
To sum up, the 21st Century IDEA Act seeks to make interactions with the government more efficient and user-friendly by eliminating duplication between departments and giving customers uniformly positive experiences. As a Federal Director in either the Department of Defense or the Department of State, you have an essential role in helping your department adhere to this legislation. It is crucial to balance this effort with ensuring that customers are satisfied with their interactions with your agency's services—both internal and external alike!